Raiffeisen Bank sells majority in pension insurance company RMOD
24.04.2018
Raiffeisenbank Austria d.d. (RBA) and the Triglav Group signed an agreement for the sale of a majority in the only Croatian pension insurance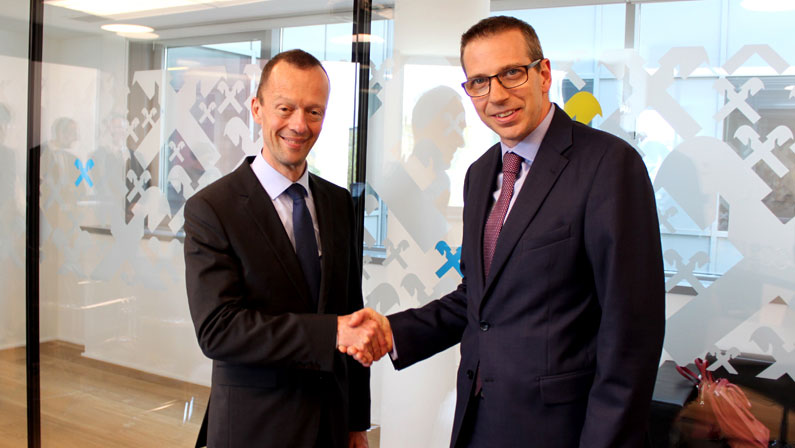 Raiffeisenbank Austria d.d. (RBA) and the Triglav Group signed an agreement for the sale of a majority in the only Croatian pension insurance company – Raiffeisen mirovinsko osiguravajuće društvo d.d. (RMOD). Under the agreement, RBHR sold its major holding (75 per cent minus one share) in RMOD while retaining the ownership of the remaining 25 per cent (plus one share).
In accordance with its business strategy on the Croatian market and with a view to strengthening the position of banking and financial services, Raiffeisen Bank has decided to reduce its presence in the insurance segment. On the occasion of sale of the majority in the Raiffeisen Pension Insurance Company, Inc., the CEO of RBA Michael Georg Müller said: "I am extremely pleased that we have found a partner for this deal in the Triglav Group, a renowned name in the insurance world. I believe that, as the Bank and the Group in Croatia, we have proven our innovativeness when entering this segment. Thus, since its establishment the Raiffeisen Pension Insurance Company, Inc. has remained the only such company in Croatia with more than 15 years of successful operations and experience," Müller concluded.
RMOD continues to be the only pension insurance company in Croatia authorised to pay out pensions under both the mandatory pension insurance scheme and the voluntary scheme, which is based on individual capitalised pension savings (so-called 2nd and 3rd pillar).
To date, after completing their saving cycle in mandatory and voluntary pension funds, more than 24,000 beneficiaries have agreed to have their pensions paid by RMOD. A substantial portion of beneficiaries under the voluntary pension scheme have already received all temporary pension payments, agreed for a period of five years; some beneficiaries under the mandatory pension scheme have reverted to the Croatian Pension Insurance Institute to take advantage of more favourable pensions.
As at 1 April 2018, RMOD had 11,557 active pension payout agreements, of which 276 under the mandatory pension scheme.
In the light of more than 15 years of its successful operations, we can say that RMOD's business is on a stable footing; it has closed each year with a positive P&L.
Furthermore, this business cooperation does not affect its operations nor does it change its business policy toward the mandatory and voluntary pension fund management company Raiffeisen društvo za upravljanje obveznim i dobrovoljnim mirovinskim fondovima d.d. (RDMF), so the Bank is to press on with its fruitful cooperation with these funds. The Raiffeisen Mandatory and Voluntary Pension Fund Management Company, Inc.) manages three mandatory and seven voluntary pension funds.
At the end of March 2018, Raiffeisen mandatory pension funds had more than 561,000 members with total assets under managements in excess of HRK 28 billion. Meanwhile, Raiffeisen voluntary pension funds have attracted 75,000 members with more than HRK 1.3 billion in assets in all funds.
The largest and longest-running category-A Raiffeisen mandatory pension fund generated an average annual return of 5.84 per cent between inception and end-March 2018. The return of category-B Raiffeisen mandatory pension fund stood at 8.30 per cent while category-C Raiffeisen mandatory pension fund had a return of 7.53 per cent.