FlexiSTUDENT package
Special offer for students
Your first credit card, together with giro and current account
If you are a student and you are under 27, get your free FlexiSTUDENT package. In the package with current and giro account you also have your first Mastercard or Visa Classic credit card.
What you get in package?
FlexiSTUDENT
HRK 0 per month
credit card with the limit of 3.000,00 HRK,

On-line banking (mobile and internet),

mDIREKT credit card service

50% cheaper kuna payments via On-line banking to accounts with other banks.
Mastercard debitna kartica
Sa svojom Mastercard debitnom karticom raspolažeš sredstvima s tekućeg računa, sve isplate i uplate koje radiš terete tvoj tekući račun. Debitna kartica ti omogućuje:
• beskontaktno plaćanje,
• plaćanje roba i usluga u zemlji i inozemstvu u okviru raspoloživih sredstava na računu,
• isplatu gotovine na RBA bankomatima te bankomatima drugih banaka u zemlji i inozemstvu,
• ulaz u 24-satnu samoposlužnu zonu RBA poslovnica i drugih banaka.
Iskoristi brojne Mastercard popuste i pogodnosti te doživi Mastercard neprocjenjiva iskustva!
Uz RaiPay plaćaj mobitelom

Plaćaj bez gotovine i bez kartica putem svog pametnog telefona – bez naknade i bez dolaska u poslovnicu. Saznaj više o RaiPay aplikaciji!
Giro account
Do you temping or part-time work or have a scholarship?
Open a giro account and for simple access to and use of your money arrange a FlexiSTUDENT current account package with a standing order so that each payment credited to your giro account can be transferred you your current account.
Read more about the giro account.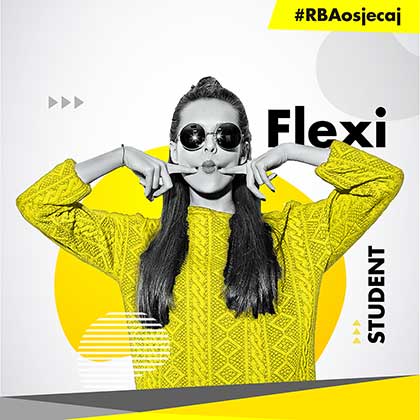 Your first credit card
Three cards in one

Take advantage of RBA credit card flexibility and buy it right away and decide on the payment method later on:
- pay 3% or more of the total debt (min. 150 kn) or
- pay the entire debt at a time or
- distribute interest-free rates - each purchase> 300 kn made on the internet, overseas or in the country, divided into 2 to 24 installments and up to 30 days after the purchase.

Zlatna RBICA - collect points

When you use a credit card, you are automatically a member of the Zlatna RBICA reward program. Each purchase of RBA credit and debit card collects points. Convert the points to the Zlatna RBICA kunas and spend them at the sales points of our partners.