Investing is not a mysterious activity, reserved only for the lucky ones with an unprecedented talent for finance. At RBA, we believe that it is quite natural human behavior. In fact, we are sure that each of us is a born investor..
To be specific, you have already invested approximately 6 seconds of your time in reading this text! In fact, we spend our entire life investing in various things – in our knowledge and skills, friendships, relationships or marriage. We invest in hobbies and health.
Our willingness to invest today, in return for a certain value in the future, is easy to translate from everyday life to the financial world through investing in funds.
HOW DOES AN INVESTMENT FUND WORK?
MONITORING THE VALUE OF YOUR SHARE OF ASSETS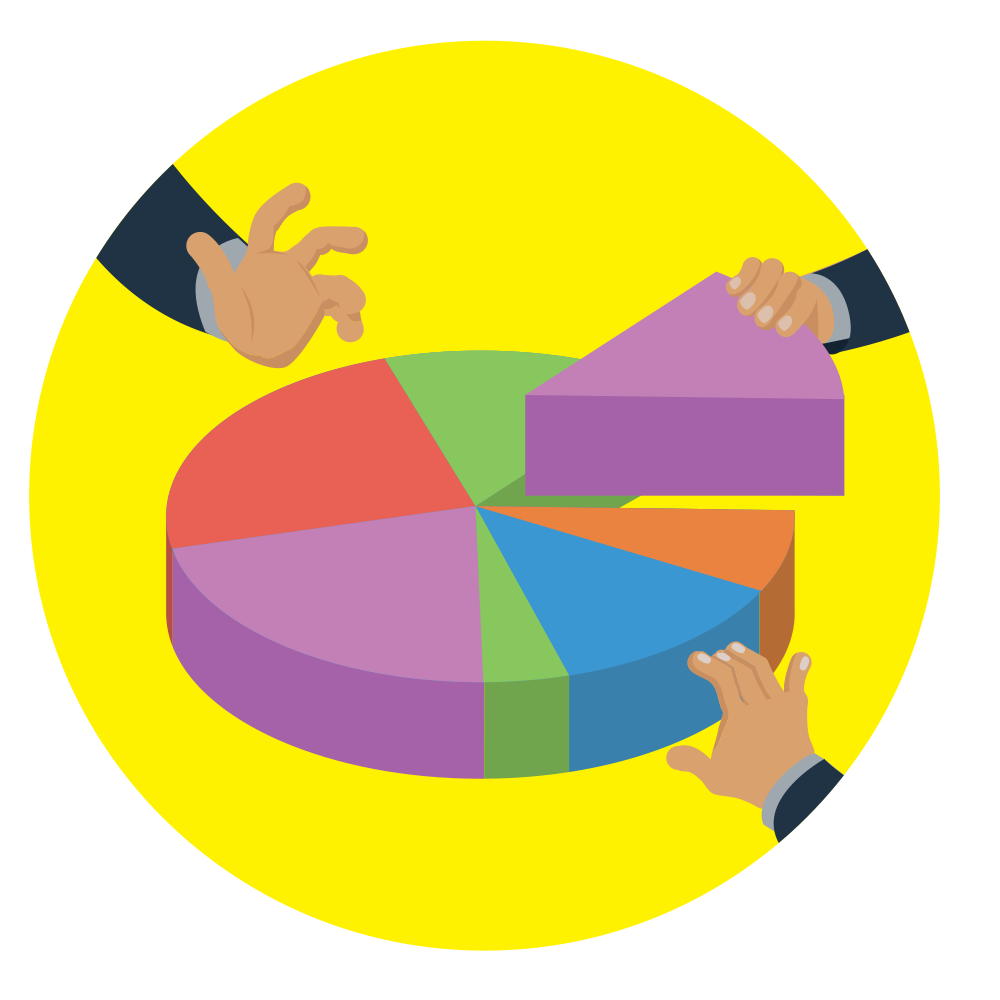 Investment funds collect capital from a large number of investors. The goal is a joint investment of the collected assets into various financial instruments (stocks, bonds, treasury bills, deposits, etc.). All assets in which the fund invests are called the fund's portfolio.
The investment fund is divided into fund units. Each unit represents a portion of the total assets of the fund, and each investor becomes the holder of a certain number of units.
The value (price) of a unit is based of the fund's net asset value and is published on a daily basis.
OK, BUT WHY INVEST SPECIFICALLY IN INVESTMENT FUNDS?
Professional management - in the investment funds, your assets are managed by professionals.

This includes analysis, selection and monitoring of the investment.

Availability

- due to professional guidance and joint entry into the securities market, you have access to markets that you would not be able to access on your own, with small investments (as little as EUR 15,00 can be invested in the fund)

Diversification

- reducing investment risk by investing in multiple types of assets.

Cashability

- you can redeem your units at any time, at the price valid on the unit redemption date.

No conversion

- investment can be made in EUR or USD, depending on the currency of the fund.

AND THEN THERE ARE RETURNS
A return of the investment fund is the result that the fund achieves for you and represents the percentage of difference in the value of your unit as compared to the initial period. Returns are calculated daily and over longer periods of time (annually since the establishment of the fund). The goal of each fund is for that result to be positive, in the form of additional earnings on the invested funds. In certain periods, the return can also be negative because the value of the fund's assets changes depending on changes in the price of assets, that is, of all financial instruments in which the fund invests.
What's it like to live next to Dunja?
My neighbour Dunja…ah, Dunja…
Because of Dunja, I had an incredible feeling of remorse every morning, which became unbearable. While I would just be opening my eyes, fighting the alarm clock in the merciless game of cat and mouse, Dunja started her day…no more, no less… but running!
For years, I've watched Dunja leave her flat every morning, no matter the weather, out for a run. Her commitment to the habit was truly admirable, but I wondered… what was the point exactly?! Why would anyone go so far as to consciously introduce such a habit into their life? Anyways, as I've been watching her, the change I've seen in the long run became apparent, and I asked myself whether having my morning coffee while looking out the window, despite it being a safer and more comfortable option to start the day, was worthwhile...because it seemed that it will not bring any special contribution into my life…on the contrary – just remorse!
During a chance encounter in the hall, as I watched tiredly at her coming back from her run full of energy, I confessed my curiosity to her and got an immediate reply. Dunja decided to invest in her fitness long-term to achieve the best possible result in the half marathon every year. She is aware of her abilities, ready to invest her time, risk bad weather and patiently, year after year, conquer herself. This is her long-term investment into fitness, into a healthy lifestyle…and firm abs, but also into the ultimate goal… qualification for the marathon!
Dunja's years of running paid off big. Although she can't foresee the future and sometimes feels that her effort is not yielding any results, a longer investment horizon provided her the opportunity to overcome periods of stagnation, so this leads to the conclusion … the more Dunja is ready for greater effort, the more chance she has to achieve better results in the long run, as well as a have a long-term impact on her health.
Still, running seemed a bit too much for me… but on the other hand…Dunja got me thinking – what's my goal, what am I willing to invest time into, which risks am I willing to accept? She told me also that it's never late for new good habits, and although I've said this to myself a million times before, this time, it was different.
For years, I've watched Dunja and I've seen change happen before my eyes …and I like this change! Running is still not my morning option, but I decided - naturally, after having my coffee - to walk to work. This will be the beginning of investing into healthy habits, and also it made my feeling of remorse disappear. I still have my coffee in the mornings and look out the window, sometimes I wave to Dunja and I always remember her words – all of us are born investors, we just need to decide to make the first step – because, it's natural to invest!
HOW DO I KNOW WHICH INVESTMENT FUND WILL GIVE ME THE DESIRED RETURNS?
Your returns will depend on:
1

YOUR APPROACH TO INVESTING
We do not all have the same preferences when it comes to our willingness to accept risks or the same time available for investing. When defining your own investment approach, it is important to know the general characteristics of all funds, and to determine your priorities accordingly.
GENERAL CHARACTERISTICS OF FUNDS

VOLATILITY
As a rule, the riskier the fund, the higher its volatility. In other words, volatility shows to what extent a certain security or financial instrument is liable to price changes. Volatility is a characteristic of any fund, and how much this volatility will be expressed depends on the type of instruments in which the fund invests.
Note:
The higher the volatility, the greater the risk - but funds with a higher degree of volatility, potentially may achieve higher returns. For example, an equity fund will often have daily price changes of more than 1%, whereas something like that will almost never happen with a monetary fund. We can say that an equity fund is volatile, whereas a monetary fund is stable.
A Volatile Love Story (Is There Any Other?)
We were all Jure at some point in our lives, some of us even several times.
Attempts, opportunities, difficulties, ups and downs left their mark, but Jure never gave up. In life, it is worthwhile to invest in the right things – this was his guiding principle from the moment he set his eyes on Mira. And Mira is just Mira... She'd never say what her intentions are.
Mira was Jure's life choice and he decided to use subtle (and unsubtle) methods to convince her to spend every new tomorrow together. with him. Many interested parties followed their relationship, and especially Jure's father, to whom Jure would file an entire report after every meeting with Mira.
"She's allergic to hazelnuts. This box of chocolates was a total failure. I think I've gone three steps back" despaired Jure as he remembered Mira's frown, from which he guessed he should take off after giving her the box of chocolates.
"C'mon, it didn't really go well this time. At least the bouquet last time worked out. You said she loved it. Never mind that she left it at the cafe. These are all ups and downs. That's why courtship investments are 'volatile'", the father would add in encouragement.
Waiting for the allergic reaction to fall into oblivion, Jure was coming up with and mulling over new points in his strategy, trying to anticipate what Mira's reaction to his new move would be. He thought of cinema. This seemed to be a sure thing. Still, he started to reconsider if his invitation to the movies would present a potential risk. What if he chooses a wrong film which would be absolutely uninteresting to Mira. Will Mira agree to it at all?
Despite the unpredictability and continuous changes, Jura was persistent. He decided that it would be best to take Mira to a good concert. Who could refuse a good musical episode to round off the working week and serve as a perfect overture to the weekend? Mira could. She gets up early because she goes hiking. As she climbs, it's evident that Jure falls.
"And this is where our story ends. It's the end of whether we will or we won't, because Mira knows we won't ", concludes Jure with resignation to his father, who is trying to assure him that it's not a sinking ship, recalling that his mother withstood his courting arrangements for a long time.
"How was the concert?", was Mira's first question when she called Jure, who looked at his father in disbelief, trying to signalize to him that it's Mira calling. His father could not read his mimics, gestures and kneeling and just ranted on about the necessity to be bold because that's the only way to achieve our investments and dreams.
Today, Jure and Mira are expecting their second child.

INVESTMENT TIME HORIZON
Investment time horizon tells how long an investor plans to invest in a fund before deciding to withdraw money. The classic division of the investment horizon is short-term (1 year), medium-term (>1 to 5 years) and long-term (>5 years).
Note:
Financial instruments with a short-term investment horizon usually have the lowest returns, but volatility (and risk) is lower. If a fund invests in higher-risk financial instruments such as shares, the potential yield is higher, but then you need to be patient and aim for a longer investment period because shares can be very volatile.
We recommend:
In order to give fund managers a chance to achieve the investment goal determined by the prospectus of each fund, it is also necessary for the investor to withstand at least the minimum recommended investment horizon, which means adjusting the investment amount to the time period when that money will not be needed.
Why Is Investing in Children a Long-term Strategy?
Nives invests into the future of her little Tomo since he was a toddler. She developed a reliable strategy and while doing so, she learned some French. She knew that long-term investment in developing his potentials was a correct decision. And Tomo was interested in everything: from hockey, French, to drama group, science workshops and violin.
He mastered violin sheet music like it was nothing, and on Friday nights Tomo would prepare recitals for his parents to demonstrate his musical potential. Besides getting "Well done, son" and "Play the one by the Rolling Stones", Tomo knew that he can always expect support from his parents.
Until the wire snapped one day and Tomo said – it's time I start learning French. His mother only changed the route in her navigation app and from that moment, instead of to the North, they would drive to the South of the city so Tomo could learn French. For Nives, this was an investment strategy. Long-term. This was an investment into his future. One day when Tomo discovers what he does well, he'll be able to put his heart into it fully.
In order to master French as well as possible and to hone in on his communication skills, mom Nives decided to sign Tomo up to a drama group, alongside the French classes, to strengthen his confidence and creativity. Mom knew that it was just this sort of investments into his personal development that create additional value which will mean a lot to her son after he's through with the discovery process.
The green snake or the 'extra-terrestrial egg' were Tomo's favourite chemistry experiments. Although his mom was not keen on turning her kitchen into a chemistry lab, she decided to support Tomo when he discovered chemistry in the 7th grade and declared he wanted to be a chemist when he grows up.
Investing over a longer period brings higher profits. As well as investing in discovering all of Tomo's potentials. And, so it was. Although, Tomo graduated as a chemical engineer, his first job was on the theatre boards.
Mom never did much to manoeuvre her son into one field only but invested in him, so he'd be a successful young person one day, an actor living his story. She knew how to value long-term priorities and firmly stood backing her son's choices.

RISK
Any type of investment carries a certain risk, so do investment funds. The SRRI (synthetic risk and reward indicator) is used to indicate the level of risk of an investment fund, on a scale from 1 or 2 (lowest risk funds – monetary and short-term bond funds) to 7 (highest risk - equity funds). Risk is directly related to the potential return, that is: the higher the potential for returns on investment, the riskier the investment. And vice versa.
What Does One Do When the Record Starts Skipping?
The Legend – this was the first LP that father gave Lidija. Although the age difference between the Legends and her was 15 years, Lidija knew that long play was the format of her life. Thirty-three rotations per minute spun her daily routine in rhythms and lyrics.
Gramophone records were Lidija's investment. And nobody actually understood why, in the era when everything is in the 'clouds' or on miniature 'storage devices', Lidija spends her finances making rounds of the second-hand shops searching for the hidden musical heritage. "How's that working out for her" always hung in the question bubble above their heads. She tried to build up the rich LP collection that she inherited from her father with quality specimens known only to enthusiasts investing in this field. She directed her student allowance into analogous sound storage, knowing that her records will be her future.
As the needle would wear down a record by ploughing through its grooves, Lidija was worn down emotionally by the fact that in the digitally oriented world, her passion for the already rusty and dusty technology faces a lack of understanding. It was a risk to continue on a path that has already ended for others. Can anything like this, which belongs to the past, be a basis for investing into the future?
Making a decision to continue investments in gramophone records was a challenge that Lidija had to face. Every type of investment carries a particular risk. She was aware of hers, but she still decided to visit London for a vintage vinyl record fair to have another, potentially last, look at the specimens of the musical sound carriers that were so important to her that she'd forgo going places with her fellows or for trips. After the fair, Lidia stayed on to spend the evening at a club. She left her records in a safe place as she'll have plenty of time to enjoy them when she returns home.
"This record will skip on the 2nd minute, you'll see!", commented Lidija to the DJ playing a vinyl of funky sounds from the 1970's. Lidija knew full well which record it was because she was one of the few who's got it and who's kept it in her collection jealously. "It was a risk to play it, but I'm glad you had a go at it," she smiled at the DJ who then invited her to suggest the next song as it seemed to him that his play list was not a good fit for this demanding audience. In the following minutes, Lidija took over the DJ desk and played the LPs.
As she turned the last record, so too her life did a 180 degree turn. The investment paid off.
Today, Lidija is a renown DJ, playing her LPs at clubs.
Your returns will also depend on:
2

TYPE OF INVESMENT FUND
Now that you know what to look for when choosing between funds, it will be easier to decide on a particular type of fund. Below is an overview of common types of investment funds.
MAIN TYPES OF INVESTMENT FUNDS

The financial industry develops and adapts products to the needs of clients on a daily basis. Please note that in addition to the above-mentioned types of investment funds, there are other types of funds on the market.
Before investing, every investor should get familiar with the Prospectus and the Rules of the fund. This material or any part of it may not be considered as an offer or solicitation to buy or sell any asset or rights. The above information is provided for informational purposes and cannot be considered as an invitation to invest. Each investor is referred to their own judgment and evaluation of the financial position of the fund and the associated risks. Prospectus, Rules, Key information for investors, financial reports, share value and other information about the fund, in the Croatian language, are available free of charge on the management company's website: www.rbainvest.hr, in RBA branches or at Raiffeisen Invest.
HOW TO INVEST?
Get information, read the Prospectus and Fund Rules before choosing the fund you want to invest in. Once you have chosen a fund that suits your goals and needs, fill out the Application for issuing units in Raiffeisen investment funds
in any RBA branch – for private individuals
via RBA iDIREKT Internet Banking
To realize your investment and obtain all the necessary professional support, please contact us at RBA branch offices. More information about investing in funds is available on web pages of Raiffeisen Invest.
Contact us
Branches
Find the nearest branch Branches
Branches
© 2023 Raiffeisenbank Hrvatska