Otvorene su prijave na Elevator Lab Challenge 2020.
18.09.2020
Pozivamo sve fintech startupe da se do 31. listopada prijave na Elevator Lab Challenge 2020.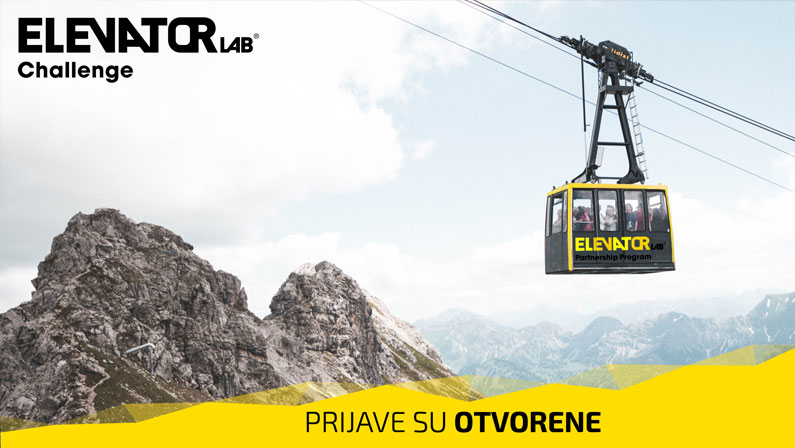 Elevator Lab Challenge je regionalno fintech startup natjecanje organizirano kroz lokalna natjecanja u Hrvatskoj, Bosni i Hercegovini i Srbiji, a otvoreno je i za startupe iz Crne Gore i Slovenije.
Timovi koji sudjeluju u natjecanju imaju priliku predstaviti svoje inovacije i najnovija rješenja u području financijskih tehnologija pred stručnjacima iz industrije i startup ekosustava. Najbolji startupi iz svakog natjecanja dobivaju nagradu od pet tisuća eura, kao i priliku da projekt predstave Upravi Raiffeisen banke u svojoj zemlji.
Prijave su otvorene od 16.09.2020. i trajat će do 31.10.2020. Ove će se godine lokalna finala po prvi put održati online, i to 20.11. za Bosnu i Hercegovinu, 23.11. za Srbiju i 26.11. za Hrvatsku.
Regionalni Elevator Lab Challenge završit će gala događajem na kojem će pobjednici natjecanja imati priliku predstaviti svoj projekt stručnom žiriju i publici te osvojiti nagradu od dodatnih pet tisuća eura. Uz to regionalni će pobjednici održati pitch na International Elevator Lab Demo Dayu u ožujku ili travnju 2021. godine.
Prijavom za sudjelovanjem, startup tvrtke prolaze kroz postupak odabira od strane stručnog žirija, koji se sastoji od stručnjaka iz Raiffeisen banke te uspješnih regionalnih poduzetnika i investitora.
Ovo natjecanje provodimo uz podršku organizacije Startit.
Prijave za Elevator lab challenge možete pronaći ovdje, a detaljne informacije o natjecanju, sudjelovanju i nagradama potražite na stranicama.