ESB odgodio povećanje kamatnih stopa
08.03.2019
Na jučerašnjem sastanku Europska središnja banka promijenila je službenu retoriku odnosno smjernice vezane za buduće podizanje kamatnih stopa.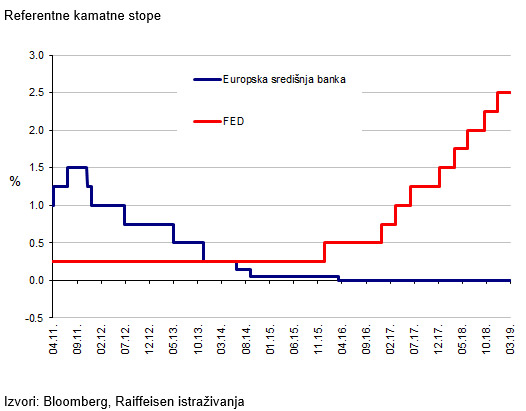 Na jučerašnjem sastanku Europska središnja banka promijenila je službenu retoriku odnosno smjernice vezane za buduće podizanje kamatnih stopa. Referentne kamatne stope ostale su nepromijenjene (depozitna stopa na -0,4%, glavna stopa refinanciranja 0,0%, stopa graničnog refinanciranja 0,25%) te će ostati na tim razinama do kraja ove godine (prethodne projekcije su bile do ljeta 2019.) odnosno koliko god bude potrebno da se stopa inflacije sustavno kreće prema ciljanoj razini ESB-a.
Međutim, retorika izgleda gospodarskog rasta donekle je izmijenjena pri čemu je naglašen rizik ekonomskog usporavanja, a očekivanja gospodarskog rasta i inflacije su revidirana na niže.
Nadalje, potpuno reinvestiranje dospjelih glavnica vrijednosnica nastavit će se još dugo vremena i nakon prvog podizanja kamatnih stopa. Dodatno, od rujna ove godine do ožujka 2021. ESB je najavila održavanje dugoročnih strukturnih operacija (eng. longer-term refinancing operations, TLTRO) i to jednom tromjesečno (posljednji mjesec u tromjesečju). Kamatna stopa na najavljenim operacijama bit će promjenjiva i indeksirana na glavnu stopu refinanciranja. Dodatne pojedinosti vezane za najavljene strukturne operacije ESB će objaviti naknadno.
Pojačani rizici ekonomskih izgleda povezani su s geopolitičkom neizvjesnošću, mogućnošću rasta protekcionizma i ranjivosti tržišta u razvoju. Prema očekivanjima ESB-a pritisak na rast cijena povećat će se u srednjoročnom razdoblju. Međutim, kretanje inflacije prema ciljanom rasponu vjerojatno će biti sporije nego što se ranije pretpostavljalo zbog usporenih gospodarskih kretanja.
Kao reakcija na sastanak ESB-a i konferenciju M. Draghia koja je potom uslijedila euro je u odnosu na dolar deprecirao do razine od 1,1218 dolara za euro, najniže od studenog 2018., a prinosi na njemačke državne obveznice, ali i ostale EU obveznice su pali.
Iako je Europska središnja banka posljednjim potezom prolongirala povećanje kamatnih stopa do kraja ove godine navedena odluka neće se odraziti na kretanja na tržištu budući da su tržišni sudionici u cijene svojih instrumenata već ugradili očekivan početak stezanja monetarne politike tek sredinom 2020.
Nastavno na reviziju gospodarskih kretanja na niže (BDP i inflacija) ona je uglavnom rezultat slabijih dosadašnjih i trenutnih gospodarskih kretanja. Već za drugu polovicu ove godine i 2020. središnja banka očekuje nastavak rasta i približavanje inflacije ciljanoj razini u srednjem i dugom roku. To je važno u onoj mjeri u kojoj bi ESB mogla biti prisiljena poduzeti daljnje mjere stimulacije inflacije. S druge strane, obzirom na prevladavajuću ekonomske izglede, dugotrajno nepromijenjena ekspanzivna monetarna politika trebala bi biti dovoljna za postizanje ciljne razine inflacije.
Prema našim očekivanjima gospodarstvo bi se u ovoj godine trebalo kretati u skladu s procjenama ESB-a. Međutim, očekujemo kako će u 2020. i 2021. gospodarski izgledi biti potisnuti zbog globalnog gospodarskog usporavanja. Kao rezultat toga, ne očekujemo snažniji zaokret u monetarnoj politici čak i duže od trenutnih tržišnih procjena. Obzirom na navedeno, ne očekujemo prvo podizanje referentnih kamatnih stopa prije 2021. godine.